Learn how to lookup free Utah criminal records in every UT county and through official channels today.
Information such as Utah arrest records, criminal proceedings, probation and parole, warrant status, prisoner records, criminal court documents, sex offender registries, and background check reports are available for public viewing thanks to the Freedom of Information Act (FOIA)) Utah's Government Records Access and Management Act (GRAMA).1, 2
But knowing what information is available and where to look is half the battle.
This guide empowers citizens to learn more about someone's past or current situation by making the appropriate agencies, search tools, databases, and contact information just one click away.
Written or authored by Attorney Robert Bailey Jr, who possesses a Juris Doctorate in Law from Widener University School of Law and is a Licensed Attorney.
Are Either Criminal Records or Arrest Records Public Information in Utah?
Yes, most arrest and criminal records are made available to the public but you have to know what ways to find them. In Utah, you have a few different options for checking if there are any criminal records for a particular person. Utah agencies have online search engines and databases that can be used to find individuals who have been arrested or incarcerated for crimes in Utah.
Both Utah's GRAMA and the federal FOIA authorize government agencies in Utah to make available a public repository with criminal or arrest record information. However, both of these laws also authorize withholding certain types of information and under circumstances where releasing those criminal records may have a negative impact.
Those restrictions consistently revolve around situations where releasing those records has the potential to hinder law enforcement efforts or violate the personal protected rights of an individual. Both the Utah and federal laws have similar requirements when addressing how and when arrest and criminal records are to be made publicly available.
Because criminal records and arrest records have different custodians, you will also need to take different steps to search for them. The primary source for arrest records is law enforcement agencies. For criminal records, you will have to go through certain state agencies and courts.
Those are not the only restrictions. There are other state and federal laws pertaining to access to these records. For instance, juvenile criminal records are not generally available to the public.3  
Furthermore, when a record is sealed or expunged, it is also unavailable to the general public. The expungement of a criminal record requires a court order and can occur automatically or by petition in Utah, so even if you know someone was arrested, the record may still not be publicly available.4
Despite these limitations surrounding 'erased' records, our free resource on searching Utah public records shows citizens the best ways to obtain all types of publicly available information.
Arrest Records vs Criminal Records: What Information Each Show in Utah
While some of the information may be the same, there is different data you can gather from arrest records and criminal records. Arrest records are usually updated daily, while criminal records are available when there has been an actual conviction.
When viewing arrest records, you can access the following information:
Name of Offender
Sex/Gender
Birth Date
Current Address
Date of Arrest
Charges
Case Disposition
Date Sentenced and length
Attorney of Record
Bail/Bond
A criminal record will show detailed case information. This will include the charges as well court hearings and the disposition of any cases. When someone is convicted of a crime, additional information, such as where they are serving their sentence, release date, and if they are on probation or parole, will also be available.
Criminal records contain the following information:
Inmate ID
Name
Age
Ethnicity
Race
Eye and Hair Color
Sex
Height and Weight
Admission Date
Birth date
Facility where incarcerated
Criminal Docket Number
Booking Date
Offenses/charges
Sentence Date
Minimum sentence
Maximum sentence
Entire Incarceration History
Mugshot
Alias(es)
How To Determine If Someone Was Arrested, View Mugshots the Reason for Detainment for Free in Utah
In this section, we will detail the various free ways to find recent arrests in Utah. However, your search will be dependent on knowing the arresting agency. If you do not have that information but know where someone was incarcerated, then that jail/prison should be the starting point for your search.
If you are unsure what to do when trying to find out what someone was arrested for, start by gathering any information you have on the individual or the crime they were charged with.
When researching to find out why someone is in jail, you may run into various roadblocks. Having the right information will be helpful in removing some of those roadblocks.
If you have the right information, a jail or agency should be able to provide an arrest record containing that person's general information, arrest details and specific charges. However, knowing what steps to take may be confusing. Here are some options to search for Utah arrest records in every county.
Check Utah Arrest Records Through the County Sheriff's Offices
To determine at the county level if somebody was arrested, you should familiarize yourself with the specific steps for the county you are searching since there will be differences in how to access each county's Utah arrest records. Counties that have an inmate search tool typically contain a simplified search engine where you can enter someone's name. Certain county search tools provide advanced searches where you can enter additional data such as a state identification number or birth date.
If your search was successful, you could review the arrest information about the individual, as well as the specific charges that were brought against them. This may also include information on what jail they are located in, whether they had their bail set (amount included), and other relevant information.
While you can search some counties records online, other counties are going to require you to contact the sheriff or jail by phone or in person. Here is an online directory of every Utah county with a direct link to their inmate search engine, their phone number, and if they provide a mugshot database. If they do not have an inmate search engine, you can click on the county link to view their sheriff's contact page.
If your search is unsuccessful, consider reaching out to Utah's Department of Corrections (DOC) or researching with their inmate search tool, as detailed below. While they do not provide arrest records, you may find additional information here (e.g., offender number, housing facility) that will assist in furthering your search.
Note: The lack of mugshots is the result of a state law that prohibits mugshots until a person has been convicted of a crime.5
How To Call or Write a Person in Utah Jail & Bail Them Out
The starting point is determining what specific jail the individual is located in and visiting that jail's website or calling them directly. The jail should assist you with their processes, whether you are looking to contact an inmate or post their bail. Most jails in Utah will be able to provide you with their specific rules for communicating with inmates and when you can call or visit them.
Generally, individuals incarcerated in Utah have the right to bail.6 Any person can bail someone out of jail by paying the jail or court where the individual is incarcerated. For specific information on bailing out someone, you should contact the local jail to ask them what their process is for posting bail.
If they are unable to assist you, then you may have to call a local bail bondsman for more information. The Utah Insurance Department provides a list of  licensed bail bond agencies in Utah.7
If the person you want to contact is a state prisoner, you can find general information on how to call or send a letter to an inmate with The Utah Department of Corrections.8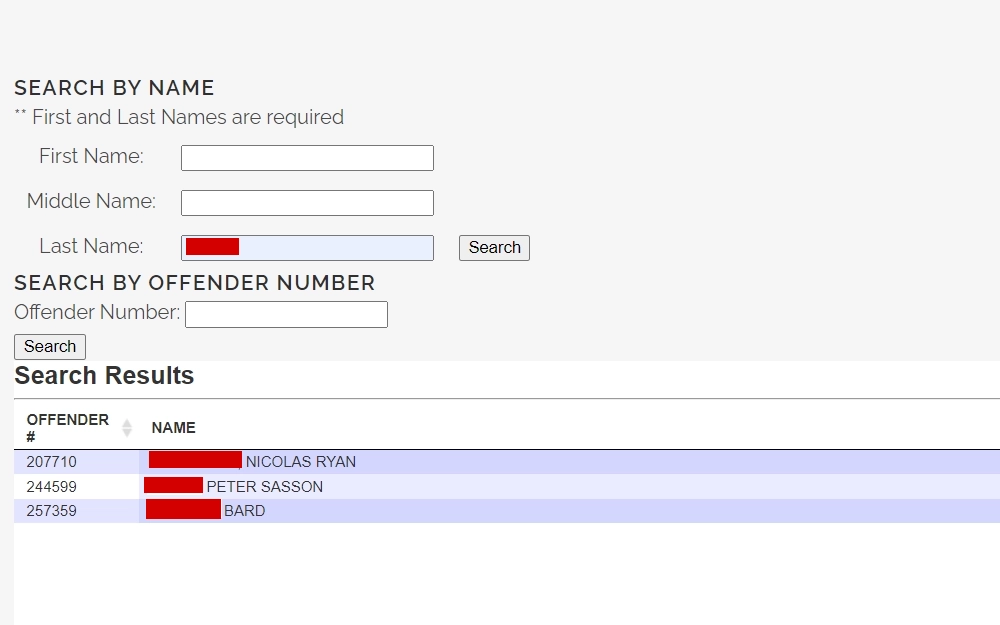 You will need to set up a Global Tel Link (GTL) to make phone calls to a Utah state prisoner.9 On their website, family and friends can set up an account to make calls to an inmate.
For additional information or questions, you can contact the Inmate Telephone System at 435-528-6000.
How To Look Up Criminal Records Throughout Utah (UT)
Most criminal records are held with Utah county courts. Utah criminal records can often be searched with other state agencies such as the Department of Corrections. If you need to, you can try contacting the County Court of Clerks to help direct you in performing your search.
Paid services for background checks are also an option, but they should only be considered if there is no available free method to find an individual's criminal record.
For Utah counties, there are a few ways to locate criminal records. Try these free options in Utah:
County Courts

– One option is to call or visit the county court (addresses provided below) and ask them about their process for searching and requesting specific criminal records in person. Individual Utah county courts do not provide their own separate online search tool for criminal records.
MyCase – MyCase is a free online service to view criminal records, but only if you are a party to the case.10
Utah Department of Corrections – this website also provides a statewide search of criminal records in Utah.11
Use the County's Court and Clerk Office To Conduct a Utah Criminal Records Search
The first step is to figure out in what county the individual's case was held. Once you have that information, you can call the county courthouse to see if you can make a direct request for criminal records. Or simply go to the county courthouse in person and request criminal records if that is your preference.
If you are unsure where to go when at the courthouse, you can visit the County's Clerk of Court, or related office, to request their assistance in accessing criminal records.
If searching for criminal records at a county courthouse, be cognizant of the fact that each county may have different nuances and employ different processes. This is especially important in Utah as none of their county courts have an online search tool. This means if you are searching directly with a county court, you will have to contact them or go in person to the courthouse in order to obtain criminal records.
Utah has both district and justice courts:
District courts handle all felony and class A misdemeanor cases
Justice courts handle class B and C misdemeanors as well as infractions and traffic cases
Here is a list of every Utah county and district courthouse with a link to the court's contact information and directions.12
In addition to general contact information, it also provides the name, email, and phone number of various helpful points of contact at each courthouse, such as law clerks, judicial assistants, and administrative assistants.
Contacting a Utah County court directly is a helpful way to track down criminal records. If you're unsure who to contact, try reaching out directly to the County Court's Clerk of Courts. This office is not tasked with providing criminal records; however, they can point you in the right direction for where to find these records in that particular county court.
Below is the Clerk of Court's contact information for each county court.
County Clerk of Courts
Courthouse Address
Phone Number
Beaver County
105 E. Center St.
Beaver, UT 84713
435-438-6463
Box Elder County
01 S. Main Street
Brigham City, UT 84302
435-734-3393
Cache County
179 North Main Street, Suite 102
Logan, UT 84321
435-755-1460
Carbon County
751 E. 100 N., Suite 1100
Price, UT 84501
435-636-3221
Daggett County
P.O. Box 400
Manila, UT 84046
435-784-3154
Davis County
61 S. Main St.
Farmington, UT 84025
801-451-3213
Duchesne County
734 N. Center St.
Duchesne, UT 84021
435-738-1228
Emery County
P.O. Box 907
Castle Dale, UT 84513
435-381-3550
Garfield County
55 S. Main Street
Panguitch, UT 84759
435-676-1120
Grand County
125 E. Center
Moab, UT 84532
435-259-1321
Iron County
68 S. 100 E
Parowan, UT 84761
435-477-8340
Juab County
160 North Main
Nephi, UT 84648
435-623-3410
Kane County
76 N. Main St.
Kanab, UT 84741
435-644-2458
Millard County
765 S. Highway 99, Suite 6
Fillmore, UT 84631
435-743-6223
Morgan County
48 West Young St., Room 18
Morgan, UT 84050
801-845-4011
Piute County
P.O. Box 99
Junction, UT 84740
435-577-2840
Rich County
20 South Main
Randolph, UT 84064
435-793-2415
Salt Lake County
2001 South State St., #S1200
Salt Lake City, UT 84190
385-468-7400
San Juan County
P.O. Box 338
Monticello, UT 84535
435-587-3223
Sanpete County
160 North Main, Suite 202
Manti, UT 84642
435-835-2131
Sevier County
P.O. Box 607
Richfield, UT 84701
435-893-0401
Summit County
60 N. Main
Coalville, UT 84017
435-336-3204
Tooele County
47 S. Main #318
Tooele, UT 84074
435-843-3140
Uintah County
147 East Main
Vernal, UT 84078
435-781-5360
Utah County
100 E. Center, Room 3100
Provo, UT 84606
801-851-8128
Wasatch County
25 North Main
Heber City, UT 84032
435-657-3190
Washington County
197 East Tabernacle St.
St. George, UT 84770
435-634-5712
Wayne County
18 South Main
Loa, UT 84747
435-836-1300
Weber County
2380 Washington Blvd., #320
Ogden, UT
801-399-8034
Utilize Utah's MyCase Search Feature to Find Criminal Records
Utah has a free search service called MyCase for individuals that are a party to a case. In order to set up a MyCase account, you will need to provide an email address, case number, and government-issued ID.
In addition to MyCase, there is another statewide online search tool for Utah criminal records through the UT Courts called the Xchange Public Case Search.13 This system will show all criminal records information from all Utah district and justice court cases. Unfortunately, this is not a free service, and users will have to pay an initial fee and pay per search or sign up for a monthly subscription.
Utah requires individuals to register in order to use their case access portal. If you decide to utilize this paid service, they do provide detailed instructions and search tips to assist their users.14
Note: If you are not a party to the case and do not want to use this paid service, try using the above information to contact the local courthouse directly or visit in person. 
Performing a Criminal Records Search Through Utah's Department of Corrections (DOC)
Utah's Department of Corrections' website contains a public records repository for searching limited criminal records information for inmates (current and released). The only search option for this tool is entering an individual's name or offender number. This tool from Utah's Department of Corrections provides certain specific information (e.g., name, sex, age, offender number) on incarcerated individuals in a Utah state prison.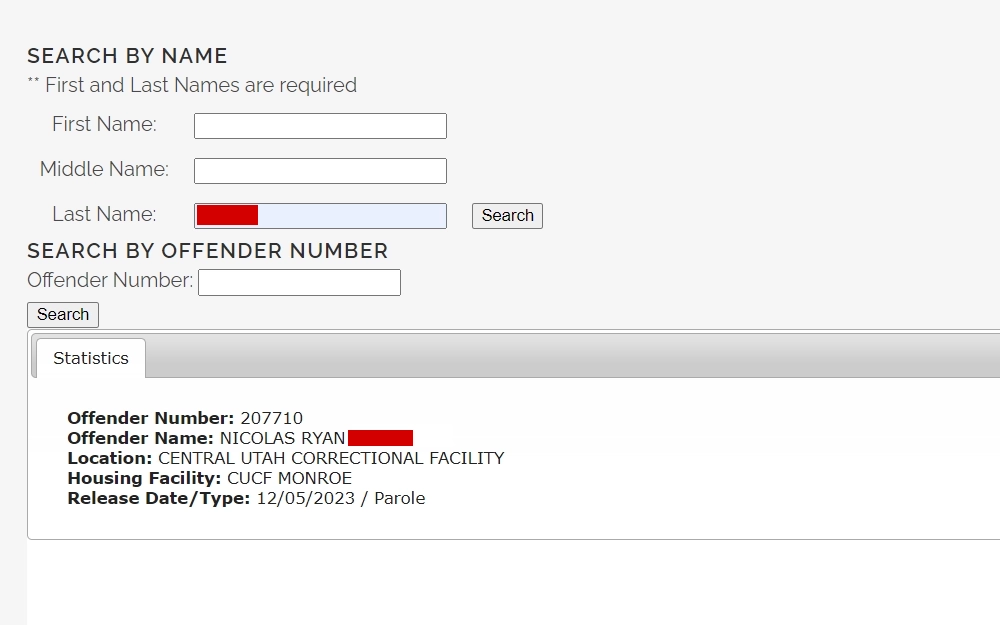 The only additional information this search provides is what facility they are located in, whether they are on probation or parole, and their release date and type. The Utah Department of Corrections does not provide any information on the particular criminal offenses that were committed by the individual or a mugshot database.
However, it can be a helpful tool to enhance your search using other tools previously discussed.
How To Request or Obtain a Copy of Utah (UT) Criminal Records
In Utah, there are a couple of basic options for requesting a copy of someone's criminal record (also known as a rap sheet). One way is to request a copy through the Utah Department of Public Safety.15 Their Bureau of Criminal Identification (BCI) provides forms for individuals seeking to obtain their own copy of their criminal history record in Utah.16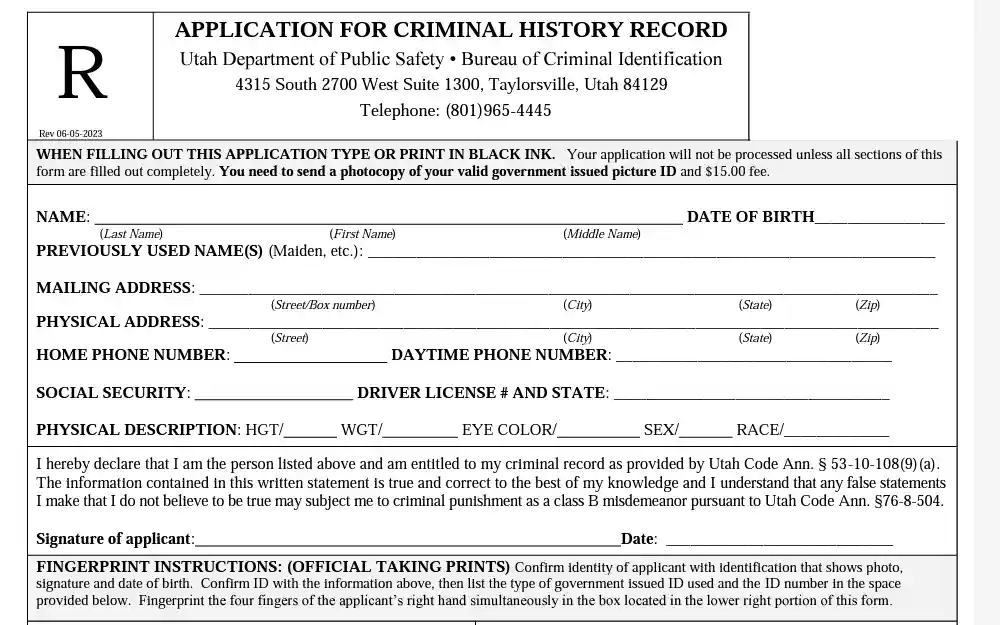 You can download either an Application for Criminal History or a Third Party Release to allow someone else to obtain your criminal record.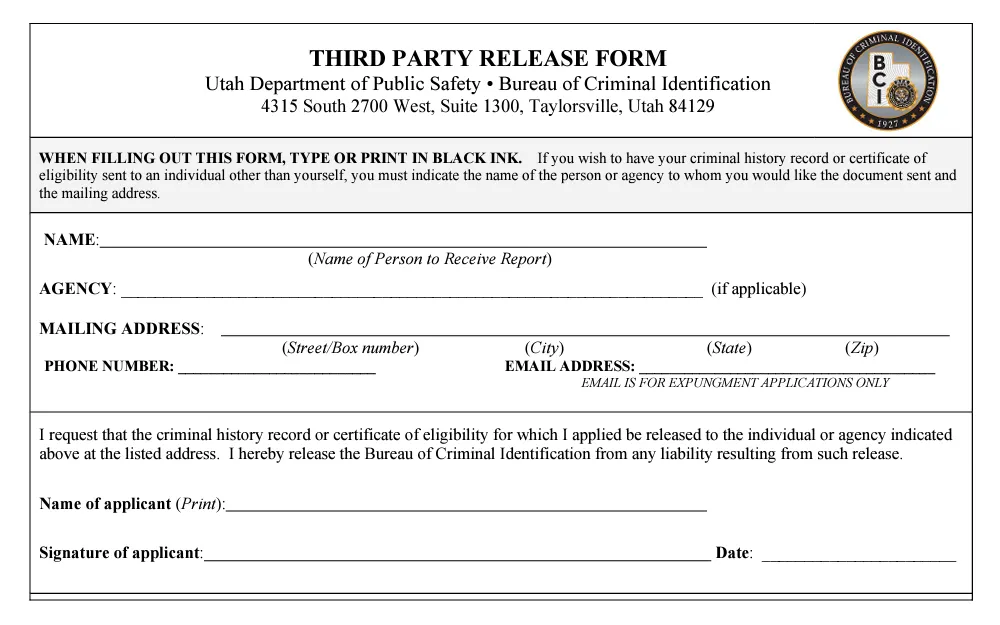 Personal criminal records can be provided to anyone who provides one of these forms and pays the $15.00 fee. If you have any questions, you can contact them at 801-965-4445. You can make your request either through the mail or in person at the following address:
Department of Public Safety
Bureau of Criminal Identification
4315 South 2700 West, Suite 1300
Taylorsville, Utah 84129
Requesting a criminal record at the local level will vary from county to county and depending on the agency. When making a request locally, contact the county courthouse or law enforcement agency to determine how to request an individual's criminal record.
There are rules when requesting the criminal records of another person, regardless if you obtain the criminal record from a state or local agency. All Utah and federal laws are still applicable, which means when making this request for professional reasons, you must receive a person's consent.
If someone is looking to rent their property to a prospective tenant or for any other professional reason, make sure you first obtain consent before requesting their Utah criminal records. Details on these laws will be discussed further later in this article.
How To Conduct Probation or Parole Searches in Utah
In certain situations, you may want to specifically conduct a parole or probation search. People on probation in Utah are no longer incarcerated in jail but are still under some level of supervision. When someone is on parole, it means they were convicted of a felony and sentenced to Utah state prison and have been released by Utah's parole board.
Most individuals serving time in jail are for lesser offenses and result in probation. Prisons are reserved for more serious crimes at the state and federal level and result in parole when an individual ends their sentence.
To illustrate just how many people are on probation and parole, the following image shows the combined total of probationers and parolees in Utah, along with their ethnicities. Furthermore, these totals are also compared to the number of individuals on community supervision (including probation and parole) in other states across the United States.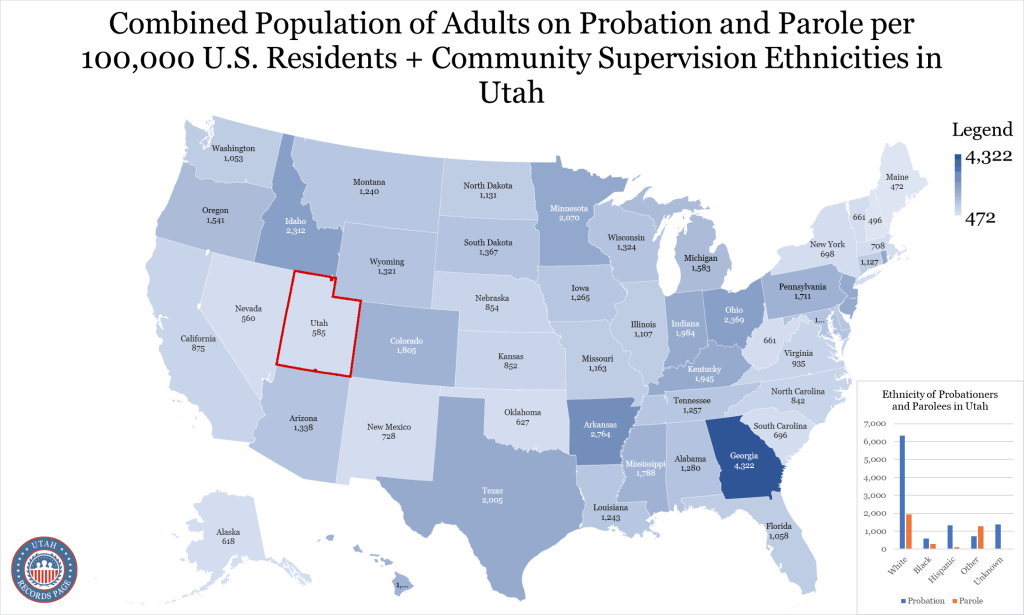 Utah does not have a dedicated probation or parolee database. However, the Utah DOC provides probation or parole information, including an individual's current location. In addition, they are responsible for managing probation and parole.
To get more information, you can contact the adult probation and parole office in the region where the individual was formerly incarcerated.17
If you are trying to conduct a federal parole search, then your best option is the Federal Bureau of Prisons.18 While their search tool does not explicitly provide this information if the database indicates a recent release, it increases the likelihood the individual is currently on parole.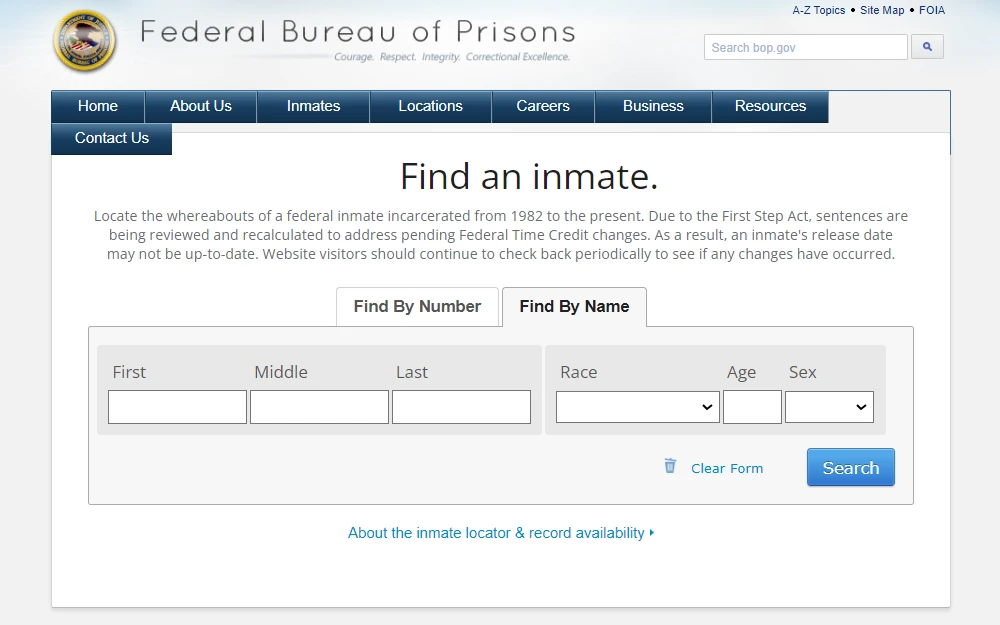 For sexual convictions, another way to get useful information is to perform a search with the U.S. Department of Justice (DOJ) National Sex Offender website.19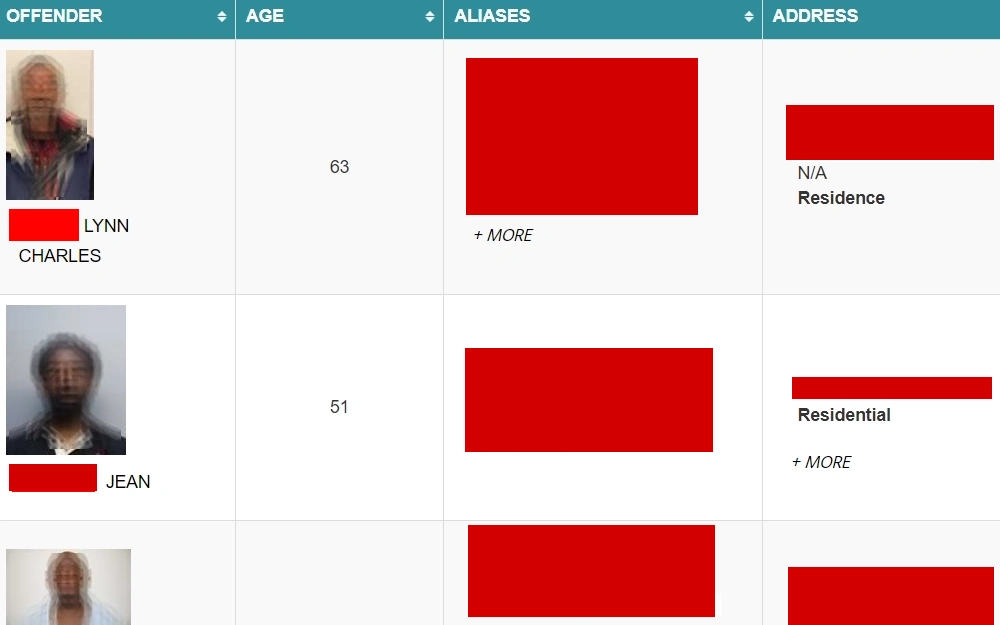 Here you can find sex offenders by searching by either their name or location. These are both options to find this information for free, although neither of them are specifically designed for probation or parole searches.
How To Seal and/or Expunge a Criminal Records in Utah
In Utah, an expungement seals (or restricts) access to a particular criminal record.20 Once the expungement is finalized, it is removed from all records except for an expungement file with restricted access. This means it cannot be found on a background check.
Under Utah law, an individual can indicate that an arrest or conviction did not occur after an expungement has been processed.
In Utah, eligibility for expungement is dependent on an individual's entire criminal history, including incidents in other states and prior expungements.21 Utah's BCI provides several examples of reasons for denial, such as a violent felony or registerable sex offenses. That being said, there are no specific limits on the number of convictions that may be expunged if one otherwise qualifies.
Utah has various time periods for expungements. For instance, traffic offenses can be expunged at any time, while DUI convictions require a 10-year waiting period. BCI provides a helpful pamphlet for additional information on expungement eligibility as well as an Expungement Application.22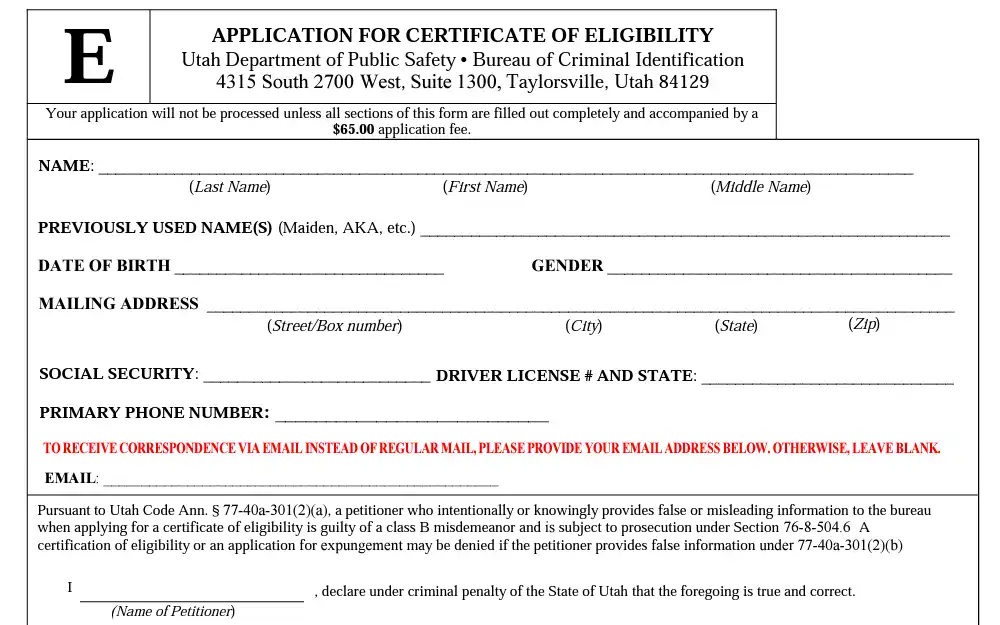 In addition to traditional expungement, Utah also provides Auto/Clean Slate expungement.23 This automatic expungement is allowed for a variety of offenses, including certain traffic offenses, misdemeanors, and acquittals. This type of expungement is done automatically and does not require an individual to take any specific action.
Utah provides a separate process for expunging juvenile records.24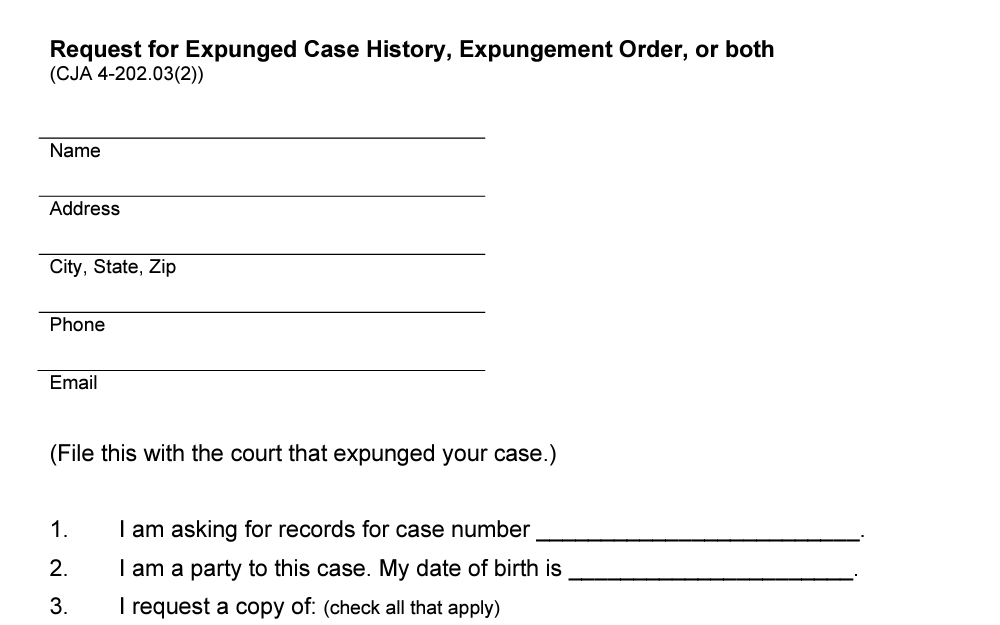 For juveniles, there is a process for expunging records in which the juvenile appeared before a judge (Expungement of Adjudication Records) and a separate process if the juvenile never appeared before a judge (Expungement of Nonjudicial Adjustments). The primary requirements for juvenile record's expungement are as follows:
An individual is at least 18 years old; and
One year has passed from the termination of juvenile court jurisdiction or unconditional release from the Division of Juvenile Justice Services custody.
Certain factors can prevent a juvenile record from being expunged, such as the type of offense (e.g., murder), pending cases, or if restitution was not paid.
How To Find an Inmate in a Utah Prison (Or Federal Prison)
When looking for someone in Utah State Prison, the quickest option is to perform a search with the DOC offender search. This online tool will identify individuals in Utah state prison, also including some individuals that were originally located in county jail. That is because Utah currently operates an inmate placement program with county jails due to inadequate space in state prisons.25
Searches can be conducted by entering the individual's name or offender number. It limits the type of information you can enter, so you cannot use additional descriptive information like their birth date, address, or distinguishing physical characteristics (e.g., age, hair, and eye color, etc.). When you conduct your search, among other information, it will provide the facility the inmate is serving time at if they are currently incarcerated.
Federal inmates can be found with the Federal Bureau of Prison (BOP). They provide an online search tool where you can search for inmates by name.26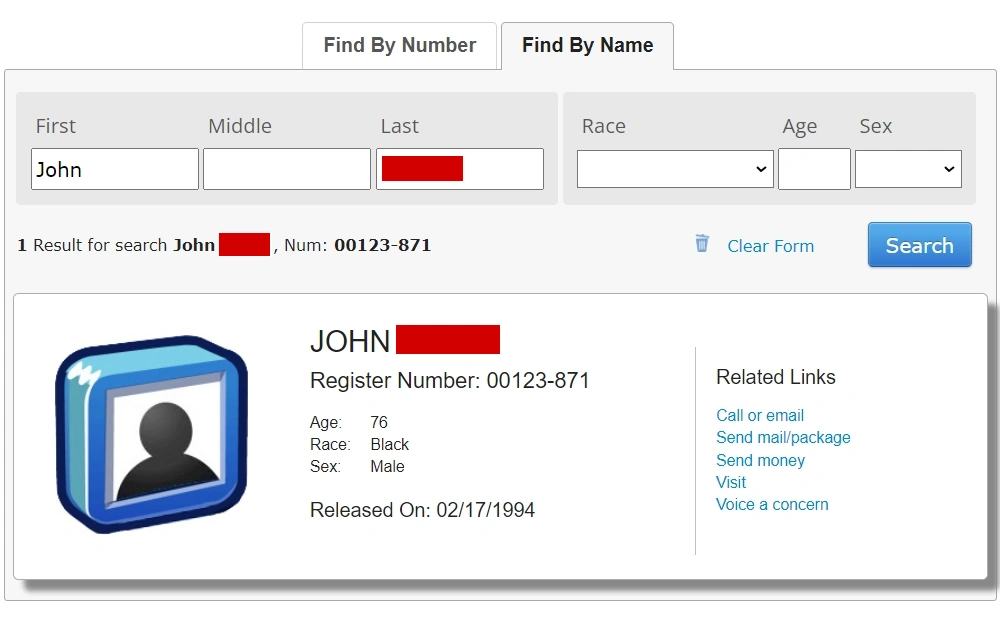 These results can be narrowed down if you have any of the following details: (1) sex, (2) race, or (3) age. You can also search by an inmate's assigned number (e.g., FBI Number, Bureau of Prisons number, etc.).
How To Determine If Someone Has a Warrant Out for Their Arrest in Utah
Utah has a warrant list database to find out if there is an active warrant out for someone's arrest.27 You can search this database by first and last name and can include a middle initial if needed to narrow down your results.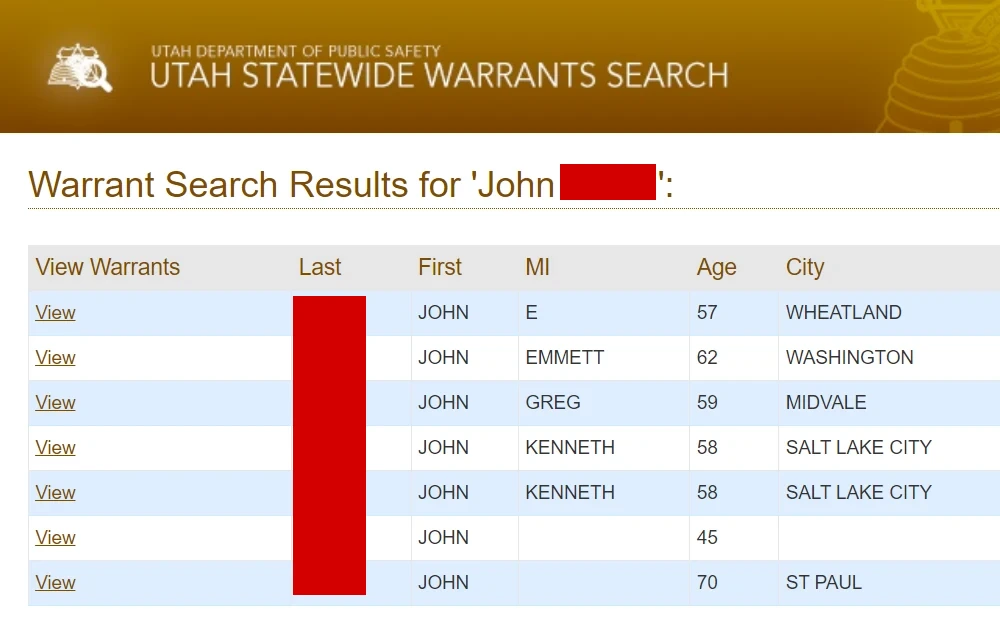 When you successfully search for an individual with a warrant, it will provide their name, age, and city. From there, you can click on their name and get more information, such as the court that issued the warrant, the case number, and the charges brought against the individual.
Federal warrants are handled by the United States Marshall. Unfortunately, there is no public database to search for these warrants. Federal warrant information is privately hosted on the Warrant Information System (WIN). This system can only be accessed by individuals granted access to perform their job.28
If you have a Public Access to Court Electronic Records (PACER) account, you may be able to access certain federal case information.29 However, PACER is a pay-per-document or number of pages service. Another option, if the crime is drug-related, is to search on the United States Drug Enforcement Administration's (DEA) fugitive list.30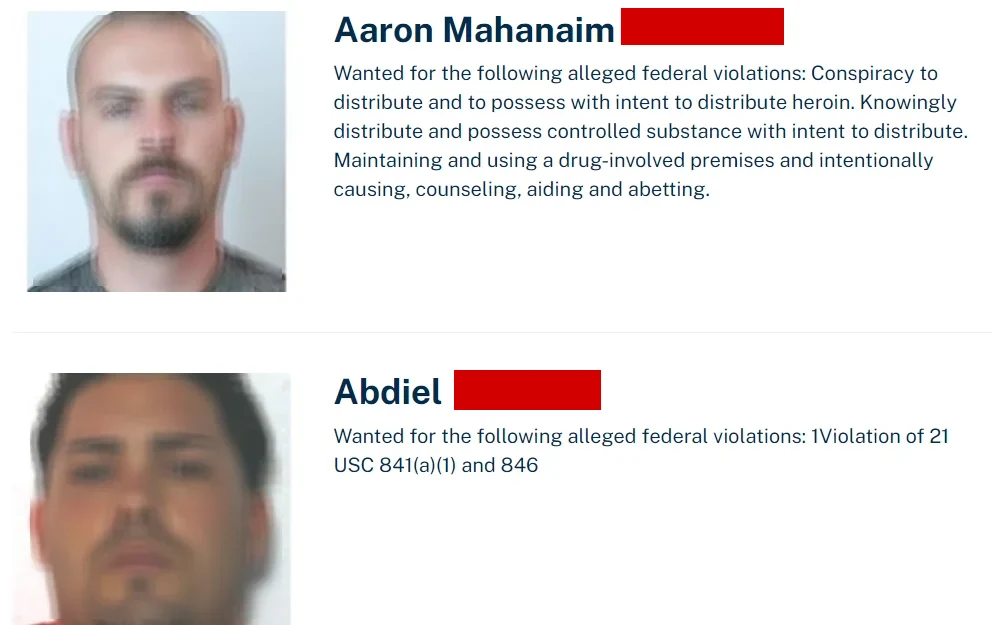 If you cannot find what you are looking for using the resources above, try reaching out to the clerk of court or law enforcement with the contact information provided earlier in this article.
An Overview of Utah (UT) Background Checks
Background checks are a common request for a variety of reasons (personal and professional). Here are some reasons people request a background check:
Applying to rent an apartment
Employment Application
Firearm purchase
Work Security Clearance
Application to adopt a child or foster care
Federal or state law requirement
Employees or volunteers working with minors (e.g., non-profit)
Individuals working with elderly
Professional background checks are often used to evaluate an individual and make sure they have provided accurate information. How professional background checks are requested and used is regulated by various federal laws (e.g., the Fair Credit Reporting Act and Equal Employment Opportunity Commission) and Utah state laws.31, 32
These laws, among other things, prohibit using these background checks to illegally discriminate against someone and require the person that the background check involves to provide explicit consent before a background check can be requested from a state or local agency.
Here are the 4 different levels for conducting a professional background check:
Level 1

– this background check searches an individual's name. Searches are limited to criminal and employment records in Utah.

Level 2

– this background check involves a deeper look at local records and includes a nationwide criminal history check (this is done by sending a copy of someone's fingerprints to be searched with the FBI's national database). At this level, you can obtain the following information: (1) nationwide criminal information (this includes arrests and pending cases); (2)prison and jail records; (3) previous addresses; (4) civil judgments, and (5) their marital status.

Level 3

– this background check is more sophisticated and includes verification of one's education and current or past employment.

Level 4

– this background check includes conducting a health and financial screening.
Any individual can use the steps outlined in this article to conduct an informal personal background check by conducting public records searches for criminal and Utah arrest records through state and county agencies. You may also complete a Criminal History Records Request with Utah's Department of Public Safety. Utah allows you to make this request in person and by mail.
There are also third-party providers that will conduct a background check for a fee.
If you need a nationwide background check, then one option is to request an Identity History Summary Check through the FBI.33 Along with an $18 fee, you can submit your request either online, by mail, or through an FBI-approved channel. The estimated timeframe for receiving a copy of your background check is 3-5 days for online requests.
Note: Personal background checks are not restricted in the same manner as professional background checks. You can perform a personal background check for any reason as long as you do not use the information to commit a crime. 
How To Conduct a Search With the Utah Sex Offender Registry
For information on sex offenders, use the national sex offender registry operated by the U.S. DOJ. Another option is using Utah's Sex and Kidnap Offender Notification and Registration (SONAR).34 On this site, you can search for sex offenders by name, address, city, or county.
Once you find the individual you are searching for, there is a lot of useful information. You can view the following information on Utah's Sex Offender Registry:
Name
Mugshot
Alias
Current incarceration status
Age
Birth date
Address
Race
Descriptive physical characteristics
Marks, Tattoos, Scars, and Piercings
All known addresses
Offenses
Professional Licenses
Vehicles
The registry even allows you to register to track the particular offender or submit a tip concerning them.
Note: Neither of these options are a general felony registry. These websites can only be used to conduct searches on sex offenders.
Criminal Records & Arrest Records Rights & Laws in Utah
Unfortunately, there is little one can do to stop an individual who conducts a personal background check. The main caveat is they cannot find your criminal or arrest information and then use it to blackmail, stalk you or commit any other crime. If someone requests a professional background on you, there are additional protections.
There are federal and state laws that, if not complied with, will result in serious consequences. These protections are primarily received through the FCRA and EEOC.
In addition, FOIA and Utah's Government Records Access and Management Act (GRAMA) provide some restrictions on what records you can search for and the timing for when certain records can be released.
If you are wondering about an arrest or criminal record of your own, use this article as a guide. Conduct a search online using any of the resources discussed in this article to see exactly what information is publicly available. It may be that your records are not publicly available.
If you would like to remove this information from the public domain, research whether any of your criminal or arrest records can be expunged.
In a nutshell, the best way to obtain Utah arrest records is to use a county inmate lookup tool or reach out to the local sheriff or jail directly. For Utah criminal records, try searching MyCase, Xchange Public Case Search, Utah Department of Corrections, or contact the relevant county courthouse listed in this article.
1The Freedom of Information Act, 5 U.S.C. § 552. (2022, January 21). Department of Justice. Retrieved May 3, 2023 <https://www.justice.gov/oip/freedom-information-act-5-usc-552>
2Utah Code Chapter 63G-2. (2023). Utah Legislature. Retrieved May 16, 2023 <https://le.utah.gov/xcode/Title63G/Chapter2/63G-2.html>
3Non-public Records – Rules of Civil Procedure. (2023). Utah Courts. Retrieved May 15, 2023 <https://www.utcourts.gov/en/legal-help/legal-help/procedures/filing/non-public.html>
4Expunging Adult Criminal Records. (n.d.). Utah Courts. Retrieved May 15, 2023 <https://www.utcourts.gov/en/self-help/case-categories/criminal-justice/expunge.html>
5HB0406. (2022). Utah Legislature. Retrieved May 15, 2023 <https://le.utah.gov/~2022/bills/static/HB0406.html>
6Right to Bail. (2018, July 30). Utah State Legislature. Retrieved May 16, 2023 <https://le.utah.gov/xcode/Title77/Chapter20/77-20-S201.html?v=C77-20-S201_2023050320230503>
7List of Licensed Bail Bond Agencies | Utah Insurance Department. (2023, April 14). Utah Insurance Department. Retrieved May 16, 2023 <https://insurance.utah.gov/licensee/other/bail-bond/agencies>
8Phone Calls & Letters. (2023). Utah Department of Corrections. Retrieved May 16, 2023 <https://corrections.utah.gov/phone-calls-letters/>
9Global Tel Link. (2023). ConnectNetwork | Connecting you with incarcerated loved ones. Retrieved May 16, 2023 <https://web.connectnetwork.com/>
10MyCase (Access your case online). (2023). Utah Courts. Retrieved May 16, 2023 <https://www.utcourts.gov/en/self-help/services/mycase.html>
11Offender Search. (2023). Utah Department of Corrections. Retrieved May 15, 2023 <https://corrections.utah.gov/offender-search/>
12Utah State Court Directory (Contact Information). (2023). Utah Courts. Retrieved May 16, 2023 <https://www.utcourts.gov/en/about/miscellaneous/directory.html>
13Xchange: Public Case Search. (n.d.). Utah Courts. Retrieved May 16, 2023 <https://www.utcourts.gov/en/court-records-publications/records/xchange.html>
14Instructions and Search Tips for XChange. (2023). Utah Courts. Retrieved May 16, 2023 <https://www.utcourts.gov/en/court-records-publications/records/xchange/help.html>
15Contact | Department of Public Safety. (2023). Utah Department of Public Safety. Retrieved May 15, 2023 <https://publicsafety.utah.gov/contact/>
16Obtain a Copy of Your Own Criminal History Record | DPS – Criminal Identification (BCI). (2023). Utah Bureau of Criminal Identification. Retrieved May 15, 2023 <https://bci.utah.gov/criminal-records/criminal-records-forms/>
17Offender Resources. (2023). Utah Department of Corrections. Retrieved May 15, 2023 <https://corrections.utah.gov/offender-resources/>
18Home. (2023). BOP: Federal Bureau of Prisons Web Site. Retrieved May 15, 2023 <https://www.bop.gov/>
19National Sex Offender Public Website. (2023). United States Department of Justice National Sex Offender Public Website. Retrieved May 4, 2023 <https://www.nsopw.gov/>
20Utah Code Section 77-40a-101. (2023). Utah Legislature. Retrieved May 15, 2023 <https://le.utah.gov/xcode/Title77/Chapter40A/77-40a-S101.html?v=C77-40a-S101_2022050420220504>
21Expungements | DPS – Criminal Identification (BCI). (2023). Utah Bureau of Criminal Identification. Retrieved May 15, 2023 <https://bci.utah.gov/expungements/>
22Adult Expungement Application. (2023, June 29). Utah Bureau of Criminal Identification. Retrieved May 15, 2023 <https://bci.utah.gov/wp-content/uploads/sites/15/2023/06/Expungement-Application-06292023-TSOB.pdf>
23Auto Expungement/Clean Slate Expungement | DPS – Criminal Identification (BCI). (2023). Utah Bureau of Criminal Identification. Retrieved May 15, 2023 <https://bci.utah.gov/clean-slate-expungement/>
24Expunging Juvenile Records. (2023). Utah Courts. Retrieved May 15, 2023 <https://www.utcourts.gov/en/self-help/case-categories/criminal-justice/juvenile.html>
25County Jail Program. (2023, March 8). Utah Department of Corrections. Retrieved May 16, 2023 <https://corrections.utah.gov/county-jail-program/>
26BOP: Federal Inmates By Name. (2023). Federal Bureau of Prisons. Retrieved May 4, 2023 <https://www.bop.gov/mobile/find_inmate/byname.jsp>
27Utah Statewide Warrants Search. (2023). Utah.gov. Retrieved May 16, 2023 <https://secure.utah.gov/warrants/index.html>
28Warrant Information System. (2023). U.S. Marshals Service. Retrieved May 9, 2023 <https://www.usmarshals.gov/freedom-of-information-act/reading-room/warrant-information-system>
29PACER. (2023). Public Access to Court Electronic Records | PACER: Federal Court Records. Retrieved May 10, 2023 <https://pacer.uscourts.gov/>
30All Fugitives. (2023). DEA.gov. Retrieved May 12, 2023 <https://www.dea.gov/fugitives/all>
31Fair Credit Reporting Act. (n.d.). Federal Trade Commission. Retrieved May 4, 2023 <https://www.ftc.gov/system/files/ftc_gov/pdf/545A-FCRA-08-2022-508.pdf>
32Overview | U.S. (2023). Equal Employment Opportunity Commission. Retrieved May 4, 2023 <https://www.eeoc.gov/overview>
33Rap Sheets (Identity History Summary Checks) — FBI. (2023). FBI. Retrieved May 15, 2023 <https://www.fbi.gov/how-we-can-help-you/more-fbi-services-and-information/identity-history-summary-checks>
34Utah Department of Corrections Sex and Kidnap Offender Registry- Contact. (2023). Community Notification. Retrieved May 16, 2023 <https://www.communitynotification.com/cap_office_disclaimer.php?office=54438>
35Application for Criminal History Record. (2023) Utah Department of Public Safety. (n.d.). Retrieved June 19, 2023 <https://bci.utah.gov/wp-content/uploads/sites/15/2023/06/ROA-6-5-2023-TSOB.pdf>
36Third Party Release Form. (2023) Utah Department of Public Safety. (n.d.). Retrieved June 19, 2023 <https://bci.utah.gov/wp-content/uploads/sites/15/2023/01/Third-Party-Release-Form-2022-TSOB.pdf>
37Inmate Locator. (2023) Federal Bureau of Prisons. (n.d.). Retrieved June 19, 2023 <https://www.bop.gov/inmateloc/>
38National Sex Offender Search. (2023) Dru Sjodin National Sex Offender Public Website. (n.d.). Retrieved June 19, 2023 <https://www.nsopw.gov/en/Search/Results>
39Request for Case History and Expungement Order. (2023) Utah State Courts. (n.d.). Retrieved June 19, 2023 <https://legacy.utcourts.gov/howto/expunge/docs/4000EX_Request_for_Case_History_and_Expungement_Order.pdf>
40Utah Statewide Warrants Search. (2023) Utah Department of Public Safety. (n.d.). Retrieved June 19, 2023 <https://secure.utah.gov/warrants/results.html>