Understanding how to access free Utah state records through local, state, and federal databases can help searchers find information on nearly anyone.
The Utah Records Page seen below guides users through official resources to quickly find the information they seek without having to check countless sites. Finding and obtaining free Utah public records has never been easier.
How Utah's State & Open Record Laws Work
In Utah, the Government Records Access and Management Act requires government institutions to respond to user requests within ten days of submission. The purpose of this law is to provide the public with timely access to information concerning the public, while still providing a person with their right to privacy. Searchers can complete a GRAMA request form (Government Records Access Management Act) and submit the request to the government department or division.
Utah's public records law controls who can access what. In certain states, public records are available for anyone to search, whereas in others, people may need consent. There is a very open public records law in Utah that allows the general public to view most types of records.
Some sites offer a search service. A paid search service provides comprehensive and faster data than a free service, which can return untrustworthy or incomplete information. Although many searchers can find information through government and official sites, such as county clerks, state prisons, and federal resources, paid third-party sites can sometimes provide information quicker and easier while still protecting the requestor's privacy.
Searchers in Utah may benefit from knowing how to find a person's criminal records by utilizing the state court records, Utah's vital records registry, inmate search features, and countless other federal and/or state repositories.
Utah (UT) Criminal Records Information
Criminal records are a person's criminal history, also known as the conviction information, dispositions, reports, and charges related to a person's activity within a state. These criminal records are typically created by law enforcement who abide by the state law.
In Utah, individuals can find another person's criminal records due to GRAMA. The data in this search will include the person's full name, gender, nationality, mugshot, physical descriptors, fingerprints, criminal offenses, and details of past warrants, arrests, convictions, and dispositions.
Under the Utah Government Records Access and Management Act, individuals must receive responses to record requests within ten days.1
Are All Criminal Records Publicly Viewable in Utah?
Utah criminal history reports are considered public records and are maintained by local and state agencies. The Utah Department of Public Safety (DPS) is the overseer in charge of maintaining criminal history information locally gathered from sources such as the county clerk and sheriff's office.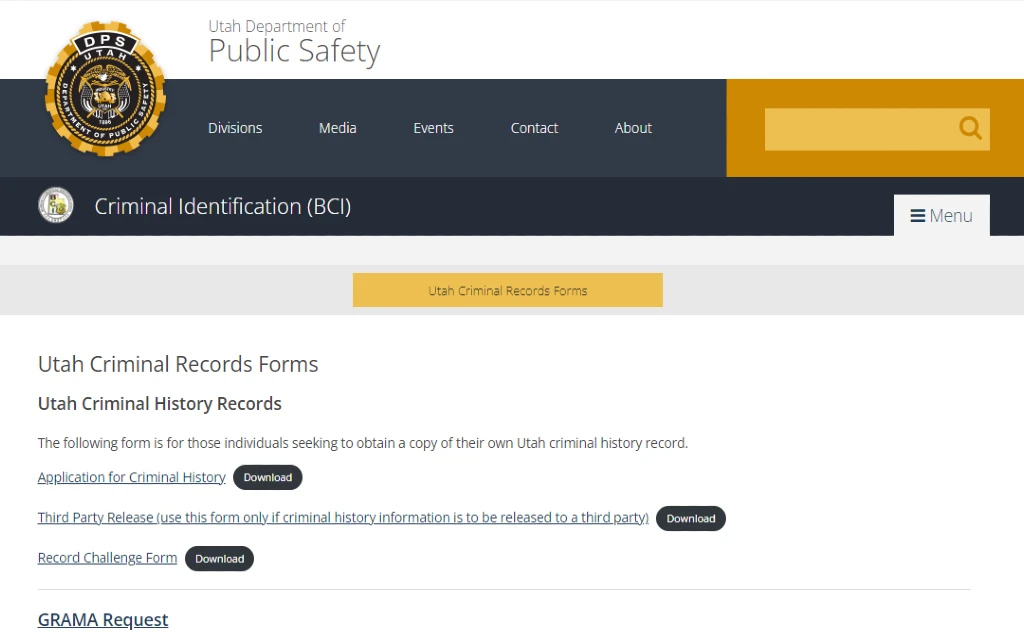 Searchers can find copies of their own criminal records using the state's Bureau of Criminal Identification (BCI). Individuals can submit a request for their criminal history report either in person or through the mail. In-person services are conducted through the BCI at the following address:
Bureau of Criminal Identification
3888 West 5400 South
Salt Lake City, Utah 84129
Users can also find their criminal records through the mail by filling out the Criminal History Record Application and sending it to the aforementioned office address.
How To Locate Criminal Records – Utah
Individuals can find their own criminal records by going to the Bureau of Criminal Identification website for Utah (explained above). If a person wishes to locate criminal records for another person, contacting the Utah Department of Public Safety (DPS) often will lead them in the right direction as this department is the state's central repository for criminal history reports.
Different jurisdictions throughout the state will have different manners and procedures of how to gather and store criminal records. However, most records are available through the online repositories or central repository through the DPS.
Offline
The quickest way to obtain criminal records offline is to visit the Utah DPS Bureau of Criminal Identification (BCI) in person at the aforementioned address. Users can also call the phone number at (801)965-4445 to speak to a professional on the phone.
The second way a searcher can find a criminal record for personal reasons as an individual is to visit their local district court or contact the Clerk of Courts.
Online
Searchers can go through the BCI to find a person's criminal record.
Another way that searchers can find criminal records online is to visit the Utah Courts website.
Go to Utah Courts
Choose the type of records (digital recordings, archived court records, appellate court records, non-public records, appellate docket search, or weekly case reports)
For public criminal records, anyone can see and make copies of public records due to the Code of Judicial Administration
Are Juvenile Records Sealed in Utah?
Juvenile court records are not public. Juvenile records are considered either social or legal records, which influences who can access the information. Accessing juvenile court social records is possible only if the following criteria are met (as stated in the Rule of Judicial Administration 4-202):
The subject of the record (if 18+ years old)
An attorney or person with power of attorney
Parent or guardian of the subject
A person with a notarized release
The subject of the record's therapists
A self-represented litigant
Court personnel
Governmental entity
Anyone granted authorization by court order
The person who submitted the record, or
The Department of Human Services (DHS)
Access to juvenile court legal records is only allowed for the following (as stated in the Rule of Judicial Administration 4-202.03):
All who may access the juvenile social record
Law enforcement agencies
Children's justice centers
Agencies providing services to the subject, or
The victim of a delinquent
Check if You Have a Warrant (Free Utah Warrant Search)
A warrant is an official document notarized by a judge that allows local and state law enforcement to seek and arrest/detain the subject in the warrant.2 This document provides the law agency the power to search and seize the individual's property and detain the person in question.
Unlike most states, Utah citizens have access to an online warrant search option hosted on the Utah DPS website. Searchers can utilize this free resource by simply filling in the first name, last name, and middle initial (optional).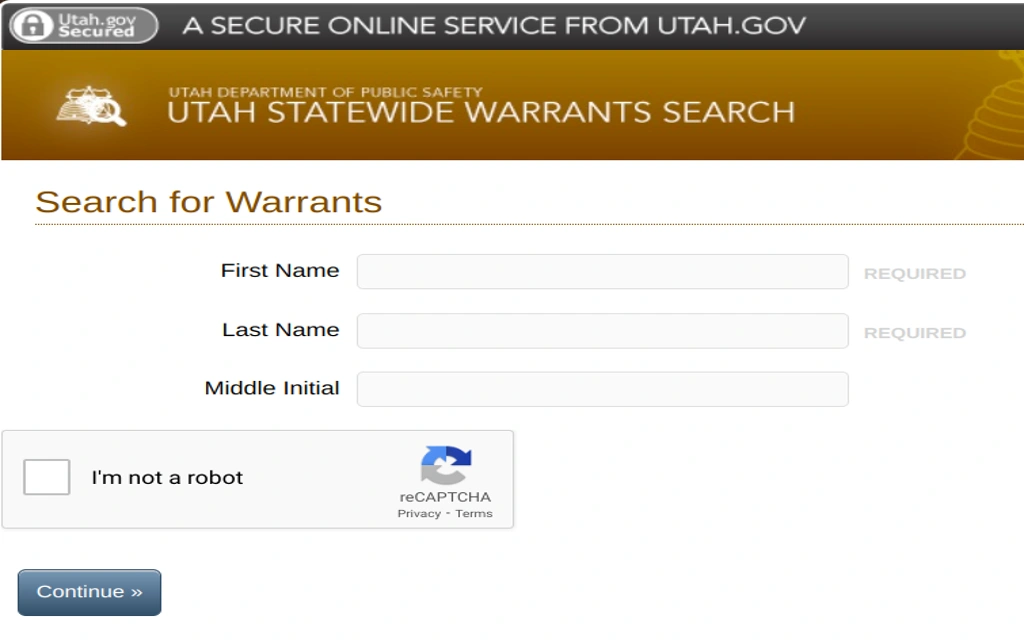 Look Out for Sex Offenders Nearby: How To Check the Sex Offender Registry
The Utah Sex Offender Registry is the local and state-maintained registry that contains public information regarding convicted sex offenders who are residents of the state of Utah. Megan's Law is a statewide version of the national law that forms the baseline for how sex offender registries are maintained and utilized by local law enforcement.
Under state law, Utah public records include sex offender criminal details which are created by different jurisdictions across the state. The sheriff's department in each county will keep sex offender information within their jurisdiction.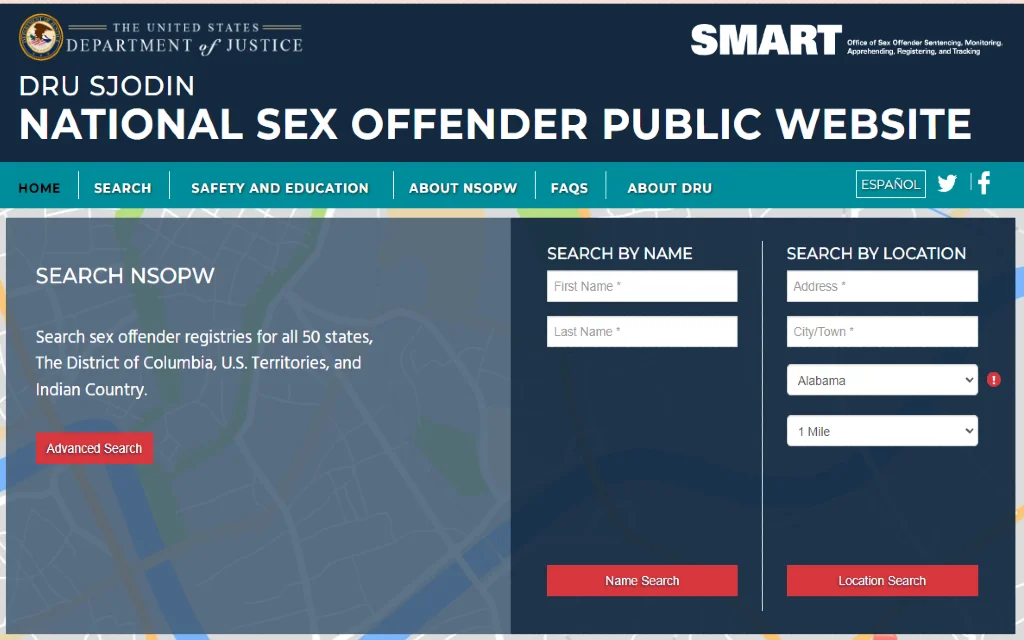 As a state, Utah Code 77-41-110 mandates the Utah Department of Corrections' Sex and Kidnap Offender Notification and Registry (SONAR) is the central repository for the sex-offender information. The purpose of this registry is to provide information to the public, collaborate with local police departments to store accurate information, and receive tips from the public on sex offenders.
Individuals can also find Utah sex offender information through the National Sex Offender Public Website (NSOPW) to compare and find people nationwide. Concerned parties who wish to look into a sex offender can search for them by name or location.
How To Conduct a Background Check on Someone in Utah
Background checks are used for various purposes, whether they are personal or professional. The most common reasons to use a background check are for employment, firearms, or residency.
Professional background checks are used to help determine if a person is qualified for a certain position, if they are a responsible candidate for tenancy, or if they have the necessary parameters for highly sensitive jobs (i.e., healthcare, child care, government agencies, etc.).
There are different types of background checks that can be conducted on a person to gather the necessary information.
Level 1 Background Check: Employment & Volunteer Background Check
A level 1 background check uses a person's name to complete the search and returns the individual's verified name, address, employment history, residence history, and a check of the national sex offender registry. This search is conducted using Utah state and local law enforcement public records.
An employer can conduct this search by doing the following:
Visit the Department of Public Safety and request a background check as a verified employer
If the searcher is not a qualified employer, they will have to check with the Utah Department of Corrections for inmate records
A searcher can visit their local court clerk or county office to see the best way to proceed
For example, in Salt Lake County, an individual can contact the Human Resources Division to view the background check requirements for certain positions and view records.3
Level 2 Background Check via Utah Bureau of Criminal Identification (BCI)
A level 2 background check is a more widespread check that requires fingerprint-verification and provides in-depth criminal history checks and returns records on a nationwide scale. A level 2 check requires the subject to consent to their fingerprints being taken before the background check is conducted.
Searchers can use the Utah crime database on DPS and the National Instant Criminal Background Check System (NICS) to verify the criminal history of the applicants.
Fingerprint Background Check through WIN/FBI
A fingerprint-based records check is conducted through the Western Identification Network Database  (WIN) or the FBI. A fingerprint background check requires consent from the individual and requires the subject to get their fingerprints taken at an authorized U.S. Post Office location.
Searchers can submit a request for a fingerprint background check online by doing the following:
Visit the IdHSC website
Follow the steps on the page (submit fingerprints digitally via the U.S. Post office, complete the online application, and pay electronically)
Searchers can submit a request directly to the FBI via the mail.
Complete the Application Information Form
Obtain a set of fingerprints using the standard fingerprint form and visit the U.S. Post Office location
Submit payment by using the credit card payment form or sending a money order or certified check
Mail the items above to the following address:
FBI CJIS Division – Summary Request
1000 Custer Hollow Road
Clarksburg, WV 26306
Utah Public Records – Court Records & Case Access
Unless court records are specifically exempt from public disclosure, the Utah Government Records Access and Management Act permits public access to Utah public records regarding court cases. 
Residents of Utah can access criminal records free of charge once they make a request to the custodians in charge of the records. Residents can also access court records through the Utah district court case lookup system (described below).
In Utah, almost all justice, district, and appellate court records are public. Private court records are only available to legal representatives and a select few individuals; these include sealed and juvenile records.
XChange terminals can be used free of charge from the District Court or the Justice Court or through the Courts Information System of public record information. This information includes the names of the subjects involved, documents, addresses, hearings, and judges. The XChange search typically yields the following:
County
Court location
Case type
Case number
Filing date
Name
Birthdate
Case history
The Utah Court System is broken down into two appellate courts, three trial courts, and two governing bodies. All of the courts have different purposes and jurisdictions.
Supreme Court (appellate) — matters regarding state law certified by Federal Courts
Court of Appeals (appellate) — deals with cases from Juvenile and District Courts
District Court (trial) — criminal felonies and civil cases
Juvenile Court (trial) — children under the age of 18
Justice Courts (trial) — small claims, class B, and Class C misdemeanors
How Can I View Someone's Court Records in Utah?
Individuals who wish to find court records in Utah can use the XChange system that makes court records available to interested parties. This management system provides access to court records through district courthouses or Justice Court locations (simply click "District Courts" on the left to view all district courthouses).
Obtain Public Bankruptcy Records in the State of Utah
Most states allow residents to request bankruptcy records through the PACER system, clerk court office, or divisional offices through the Voice Case Information System (VCIS). Closed bankruptcy cases can also be accessed through the National Archives website.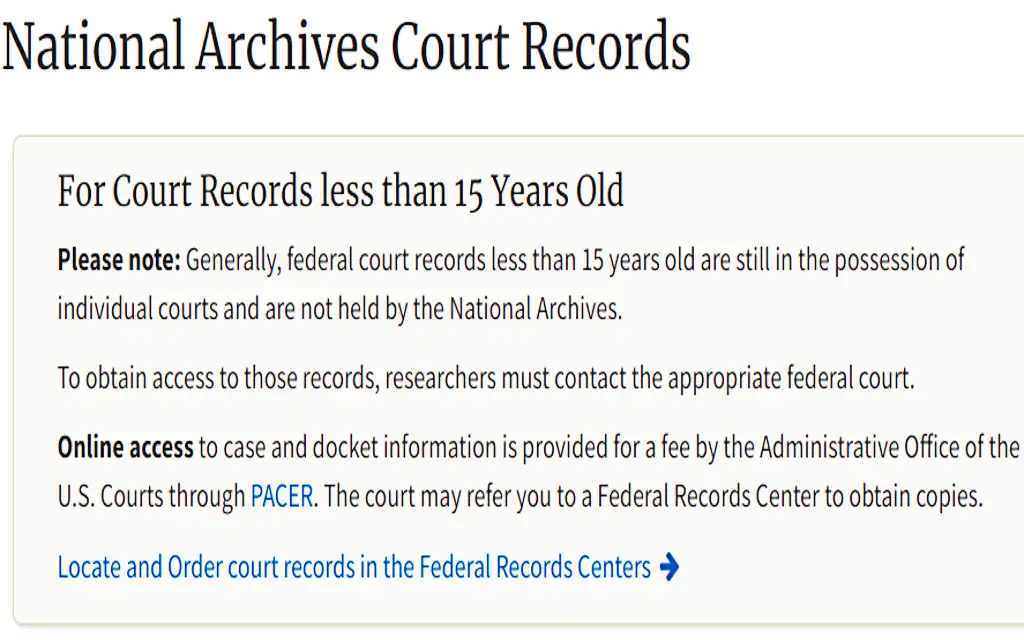 Utah bankruptcy records involve an array of financial data for those who have filed for bankruptcy. The United States Bankruptcy Court for the District of Utah uses audio recordings, with the Clerk's office offering audio recordings for public consumption for $32 per file.
Visit the United States Bankruptcy Court Website
Click on 'Forms & Local Rules'
Click on 'Local forms'
Click on 'Transcript Order' – individuals must complete a transcript order and provide a copy to the court transcriptionist.
All About Inmate Records in Utah
Utah inmate records contain the information of a person who was detained or serving jail time within the state, such as personal, criminal, and medical history.4 All information is available for public consumption under the Utah Government Records Access and Management Act.
A person may want to find an inmate to get in contact with, send letters, send money, or visit them in jail or prison. The difference between jails and prisons is that jails are usually for less serious crimes and those awaiting trial, whereas prison is for more serious crimes for longer periods of time.
Jails are broken up into city (municipal), regional (various jurisdictions), and county jails. Prisons are run either at the federal or state level — in this case, searchers will have to use the Bureau of Prisons website or the state's DOC to find inmates.
Inmate records are made available by both third-party and governmental organizations. Although individuals should always use government sites first, third-party sites can make the search quicker and are not limited by specific jurisdictions so these sites can provide more comprehensive results.
Find Recent Arrests Records & Inmates in Utah Jails
Arrest records detail a person's criminal history and are kept on file by law enforcement agencies.5
Finding recent arrests and inmates in Utah jails is helpful for those who want to get in contact, send money, or visit inmates. Individuals wishing to find someone in a jail in Utah must narrow down the state prisons to find the correct location. Once they do, they can use the aforementioned inmate locator tool on the county website or sheriff's website to find the person and retrieve paperwork.
Furthermore, individuals can find inmates in county jails by calling the sheriff's office or visiting them in person.
To help streamline finding someone who was arrested, our free resource on finding Utah arrest and criminal records gives a full list of county inmate rosters and contact information as well as several other criminal record custodians to check with.
How Do I Look Up Someone's Mugshots in Utah?
Viewing mugshots in Utah is usually doable through a specific county's social media pages or updated sheriff's official homepage. For example, Washington County offers a current inmate roster of jail bookings. In addition, Davis County provides an inmate roster with their personal information (first name, last name, gender, age, and booking date).7
Simply locate your county sheriff's office website and look for an inmate roster, offender search, or check their social media if all else fails.
Run a Utah Prison Inmate Search & Get a Prisoner's Information
It is possible to find a Utah prison inmate by using the Utah Department of Corrections to find records of the inmates and offenders currently in prison, on probation, or on parole. The public can use the inmate lookup tool to find an inmate by their first and last name or offender number.
Note: Utah does not contain any federal prisons
Information on Utah Vital Records
Vital records are life events kept under governmental authority.8 Vital records include marriage certificates, divorce records, death decrees, and birth certificates. These records are kept by the Utah Center for Health Data and Informatics in the Utah Office of Vital Records and Statistics.
The Vital Records office contains the following:
Statistics — birth and death, mortality, abortion, marriage, and divorces
Forms — applications, adoption forms, amendment forms, etc.
Deaths — filing a death record, burial transit permits, stillbirth, fetal death, fetal remains
Adoptions — complete an adoption, adoption registry, biological rights, paternity search
Utah Digital Library
National Center for Health Statistics – Center for Disease Control (NCHS CDC)
Utah Archives
To put the divorce statistics into perspective, the following image based of data from the U.S. Census Bureau shows the percentage of people divorced in Utah counties.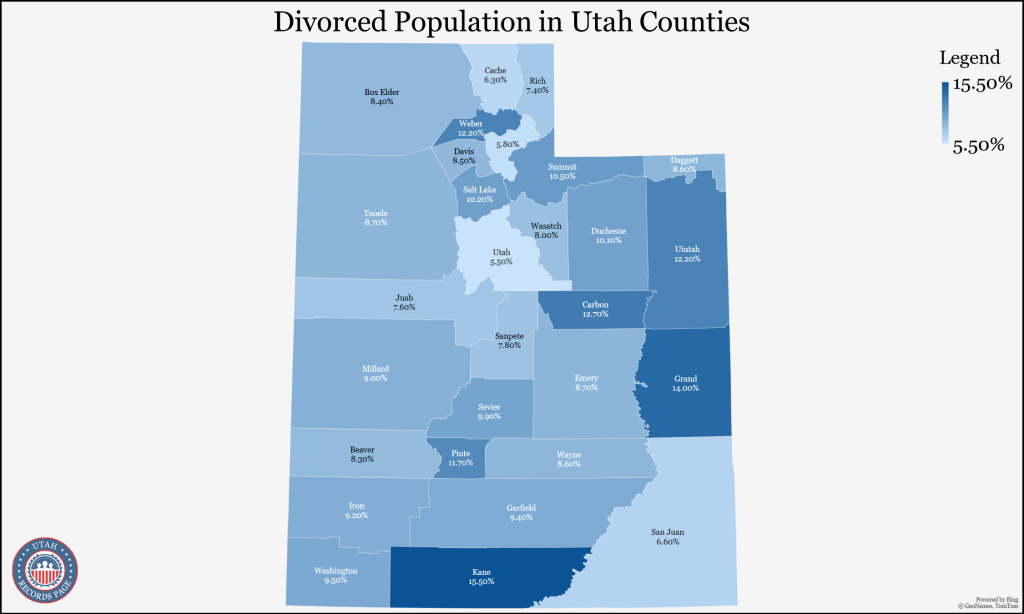 Are All Utah Vital Records Publicly Viewable?
The Office of Vital Records and Statistics maintains records for births, deaths, marriages, and divorce. Births and deaths are available from 1905, and marriages and divorces are available from 1978 to 2010. Individuals must visit their local county clerk's office to find marriage or divorce certificates before or after those dates.
Searchers cannot order certificates for birth, death, marriage, and divorces online, but they can make requests at the local Utah Health Departments or through mail to the Vital Records Office:
Vital Records
PO Box 141012
Salt Lake City UT 84114-1012
How To Check for Free Utah Divorce Records & Free Marriage Records in Utah
Starting in April of 2012, divorce court records are not considered Utah public records as they are not available to just anyone. Rather, they can only be viewed by respective parties with authorization to do so. While any member of the public can see a case has been filed and view the docket to see what has happened, they cannot have access to the records themselves. Divorce records must be obtained through the relevant district clerk of court.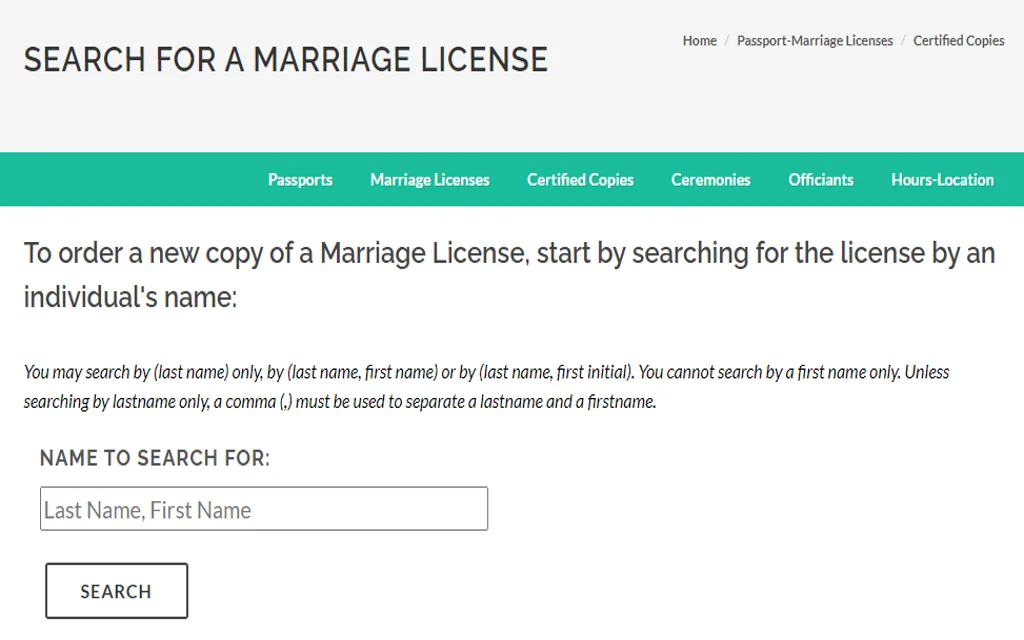 A searcher can also contact the Utah Office of Vital Records and Statistics to see marriages that took place after 1978. For marriages before 1978, people will have to contact the local clerks' office where the marriage occurred.
How To Get Another Birth or Death Certificate in Utah
A birth certificate is a vital record that documents the birth of a person.9 On the other hand, a death certificate is a vital record that documents the death of a decedent, including their cause, time, and location of death.
Searchers can use two methods to order another birth or death certificate in the state.
The methods involve the following:
Visiting an in-person Health Department Office with a photo ID and payment
Mail the birth certificate request form or death certificate request form to the Utah Office of Vital Records & Statistics along with a photocopy of current identification and $22 for a birth record or $30 for a death certificate

Utah Office of Vital Records & Statistics
P.O. Box 141012


Salt Lake City, Utah 84114 – 1012
Utah public records include (but are not limited to) arrest records and warrants maintained by local law enforcement agencies, criminal history reports hosted by the Utah Department of Public Safety's Bureau of Criminal Identification, and information on convicted sex offenders via the statewide Utah sex offender registry.
1Utah FOIA Laws – National Freedom of Information Coalition. (n.d.). National Freedom of Information Coalition. Retrieved June 11, 2022, from <https://www.nfoic.org/utah-foia-laws/>
2How Do I Check to See if There is a Warrant Out for My Arrest in Utah? (n.d.). Salt Lake City Criminal Defense Attorneys. Retrieved June 11, 2022, from <https://www.utahcriminallaw.net/how-check-there-warrant-out-arrest-utah/>
3Salt Lake County Human Resources Policy 2-500: Background Check Requirements. (n.d.). Salt Lake County. Retrieved June 11, 2022, from <https://slco.org/globalassets/1-site-files/human-resources/policies/employment/2-500.pdf>
4Inmate records Definition. (n.d.). Law Insider. Retrieved June 11, 2022, from <https://www.lawinsider.com/dictionary/inmate-records>
5McDuffey, T. (2022, April 18). What Are Arrest Records? LegalMatch. Retrieved June 11, 2022, from <https://www.legalmatch.com/law-library/article/what-are-arrest-records.html>
6Bookings | WCSO. (n.d.). Washington County Sheriff's Office. Retrieved June 11, 2022, from <https://news.washeriff.net/divisions/corrections-division/bookings/>
7Home Inmate Roster. (n.d.). Davis County. Retrieved June 11, 2022, from <https://www.daviscountyutah.gov/sheriff/inmate-roster>
8Vital record. (n.d.). Wikipedia. Retrieved June 11, 2022, from <https://en.wikipedia.org/wiki/Vital_record>
9Birth certificate. (n.d.). Wikipedia. Retrieved June 11, 2022, from <https://en.wikipedia.org/wiki/Birth_certificate>
10The Utah Department of Public Safety. Accessed 5 May 2023. <https://bci.utah.gov/criminal-records/criminal-records-forms/>
11Utah.gov. Accessed 5 May 2023. <https://secure.utah.gov/warrants/index.html>
12United States Department of Justice National Sex Offender Public Website. Accessed 5 May 2023. <https://www.nsopw.gov/>
13National Archives, 28 November 2022. Accessed 5 May 2023. <https://www.archives.gov/research/court-records>
14Utah Office of Vital Records and Statistics | Center for Health Data and Informatics. Accessed 5 May 2023. <https://vitalrecords.health.utah.gov/>